Name:Darkentis (entis, darkos)
Age:18
Gender:male
Rank:Dark jedi
looks: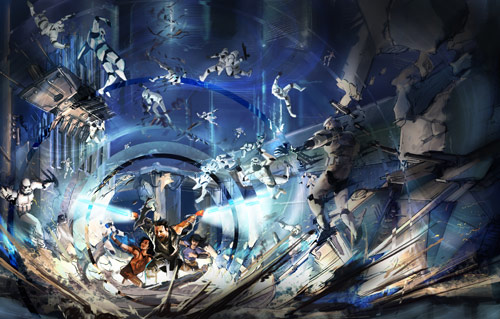 Personality: Hates all jedi but still believe sith are not the true way of the force.
he wont ever give up his goals even if it result in his death. and one of those gaols is to conquoer death itself.
he believes that now one can harness the force entirely and that he will be the first one.
he loves himself and only himself. if anything/one gets in his way the will be destroyed
Force Powers:
triple blade manipulation: manipulate 3 light sabers in the air
triple strike: shoots all three sabers at target
force jump: super high jump
force repulsion: pushes away foe
force speed: super fast speed
force lift: lif stuff with force
force pull: pull stuff
force cloak: bend light around him/herself rendering them invisible(can also bend around items and objects)
force regeneration: regenerates health
force repulsion: make a force explosion (as seen on force unleased)
force forcefield: creates a forcefield (only last's a few seconds)
Force crush: crushes the bones and organs of the victim
force kill : stops heart from beating (resulting in death)
Droid disable: disables droids
electric judjment: shoots lightning out of hand
force fear: send fear into the mind of the victim
force horror: advanced version of force fear
force insanity: advanced version of force horror
force flight: flies by using the force
force orb: absorbs nergy for force lighting into an ord shape then fires it back
spirit transfer:transfers spirit into victim (very dangerous)
most ability found on
http://starwars.wikia.com/wiki/Force_powers
History/Background Story:
Entis Darkos was abandoned by his father after the visited the planet Viniscar he was then later found by some bountyhunters who
sold him to a family needing servernts.
his new family took entis darkos back to thier home planet lanit, when they re arranged the letters on the name tag on entis darkos's neck making
his new name darkentis.
when darkentis was 5, another kid teases him about bewing a servent. this was the first time he used the force.
he picked the kid up and threw him into a wall then slowly started to crush his bones.
as he walk closer to this boy the walls around him started to crack and crumble. then out of no wear a jedi stoped him.
this jedi saw great potential in this boy and took him under his wing.
Darkentis spent the next 13 years learing the way of the jedi and learning how to control this power within him.
he was then told that his jedi master was goin to send him on a suicide misson before he finished his training.
his power surged as he destroyed his old master. he left the jedi ways now searching for a new master to help him control his full power
Roleplay style: Third person style
weapons: 3 light sabers (one usally hidden untill he uses triple strike of triple blade munipulation)
colour: blue, yellow and green
picture: